Families

Post your Family Group Sheet, Descendants Chart, etc. of a Montgomery county ancestor here with a link to your email address.
Family Group
Descendants Chart
BALDWIN Family Bulletin
May 2019, pages 1-2, pages 3-4, and pages 5-6, (2-page pdf files) focus on John & Mollie (BALDWIN) WEIR family; includes a copy of William C. BALDWIN document; and a detailed listing of sources
May 2019, pages 7-8 (2-page pdf) includes photo of John F. WEIR, M. B. HOOPER, Jos. T. OGLE, Cyrena WEIR, and Francis Marion BALDWIN; and obituaries for John F. WEIR and his widow, Mary Virginia (BALDWIN) WEIR
May 2019, pages 9-10 (2-page pdf) includes obituaries for George R. CORWIN and his wife, Cyrena (WEIR) CORWIN
"I've published a BALDWIN family newsletter since 2001, and I'm currently working on Litchfield residents John and Mary Virginia (BALDWIN) WEIR and their daughter Cyrena (WEIR) and husband George Rogers CORWIN. I'll happily send you a copy (or copies, possibly two issues) once I finalize this family. Right now, there's just one thing I need: a picture of the tree that the WEIRs enclosed in their house at 910 E Union Ave. I know the tree was still there in the early 1950's, but next-door-neighbor Gary HANNIG tells me that it's now gone. This is enough of an oddity that surely someone, somewhere, has a picture of that house-enclosed tree! If memory serves, the tree was towards the back on the east side of the house." Marti Swanson, cygnetnest@aol.com, Ringwood, IL, 20 Mar 2019
Clara Ella MITCHELL's Autograph Book
My connection to Montgomery County, Illinois, is through my great-grandmother, Clara Ella MITCHELL, daughter of George Benton MITCHELL and Lucinda Catherine PAISLEY. In the biographies section of Montgomery County ILGenWeb, you can find the bio of Samuel PAISLEY. Lucinda is mentioned in that bio.
The autograph album was a Christmas gift to Clara Ella MITCHELL from her sister in December 1888.
The signatures in the book include: Ethel PAISLEY of Hillsboro, Illinois (as recorded on the page with her signature); Cora BELL of Hillsborough, Illinois; Nelia M. HURD, cousin, Coffeen Illinois;
Chas. HAMILTON, Amherst; Harry BELL, Hillsboro Illinois; Otta GANNON, cousin;
Clara HAMILTON, Amherst, Illinois; Frank HAMILTON; Kate HUKILL, Greenfield, Missouri;
May HUKILL; Julia P. INGRAHAM; Kate MCBRIDE;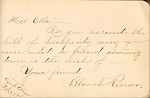 and, Blanch PEARSON, Ozark College.
Contributed 2018 May 01 and 02 by Emily Helton healdton67@aol.com